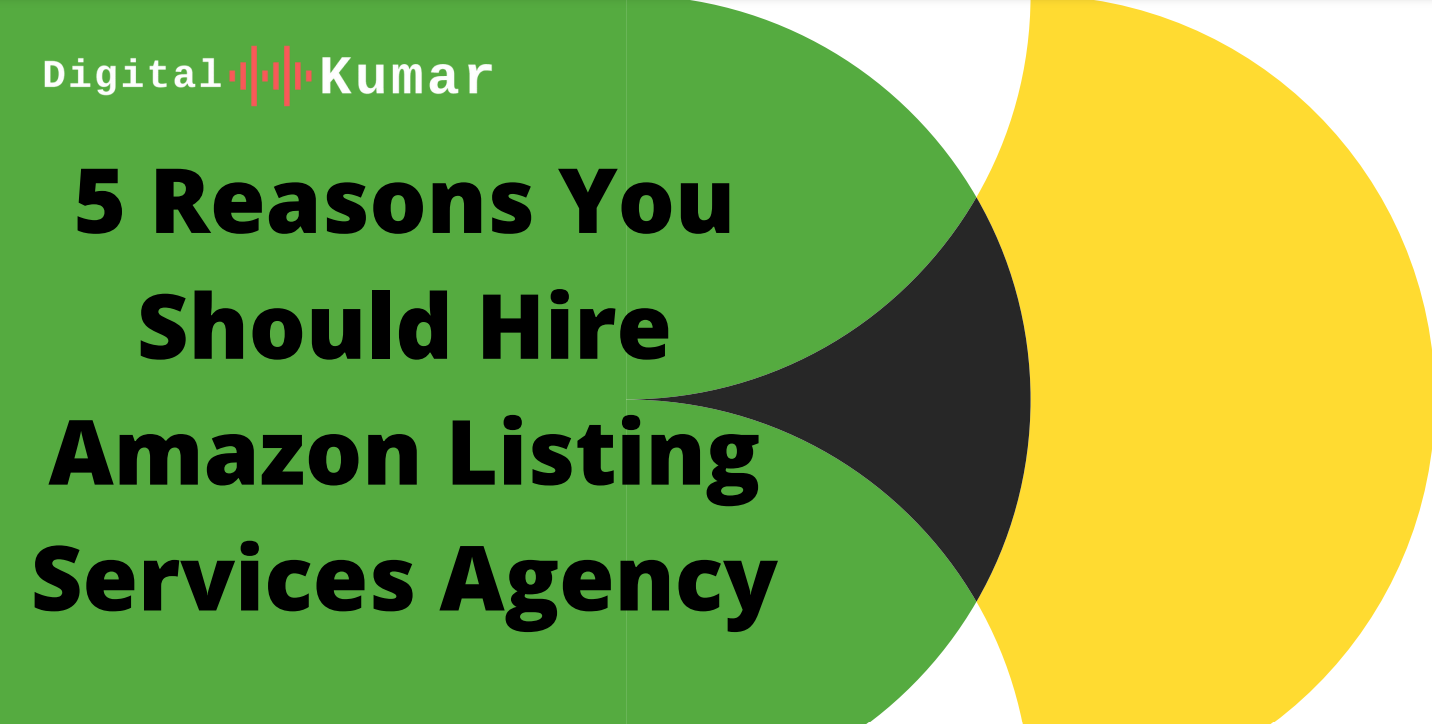 5 Reasons You Should Hire Amazon Listing Services Agency
Amazon's goal is for anyone with a good product to be able to sell it on their marketplace. This makes it harder to build traction and sell large quantities of stuff. There are a few huge winners among the sellers and a long tail of "losers" who never go anywhere, if you are unable to sell your products on amazon here we are Digital kumar offering amazon listing services.
The issue is that everyone is striving for the top spots for their products since buyers look there first. Having an SKU on page six of your selected category is akin to having a website on page six of Google search results. Simply said, it will not provide you with the traffic you want to run a viable business.
However, there is a solution out of this bind: hire an Amazon listing services agency. Rather than attempting to learn everything yourself, entrust the management and growth of your account to seasoned professionals. These experts know how to bring your products to the top of the rankings and help your company triumph.
Before we get into why you should engage an Amazon catalog management, it's important to note that the marketplace isn't as harsh as many merchants believe. On the platform, 86% of merchants make money, and 67% make a solid profit within the first year. In 2019, Amazon received more than $280 billion in revenue from third parties, accounting for about half of the company's total sales, and the 3P percentage share of total revenue continues to climb.
Some of the reasons you would need to use an Amazon Listing service like ours are as follows:
Your retail business is profitable through other channels, but not through Amazon.
It's an indication that consumers value what you sell if you have a successful retail business, whether it's through your own website or a physical location. To put it another way, you're doing something right.
If, however, you're struggling to make headway on Amazon, it signals a fault with your company's approach to the platform, not a defect in your business plan.
For example, previous to partnering with us, one of our clients, Furniture Clinic, saw fast growth through their own website and other DTC channels but struggled on Amazon. The brand was well aware that Amazon was a stumbling block, yet it was unable to acquire traction in the marketplace. It wasn't a problem with the product. Something else wasn't quite right.
Furniture Clinic was selling five times as much after just two years of working with us. The initiative was so successful that the company was listed in the INC 5000's list of fastest-growing brands, underlining the value of working with professionals who understand how the model works.
The problem, it turned out, was that the company lacked the in-house skills needed to beat Amazon at its own game. They started winning when they outsourced that duty to us.
You rely on third-party tools a lot.
Amazon sellers, especially those who are new to the platform, might benefit greatly from tools. Keyword monitors help with Amazon SEO, seller apps make retail arbitrage easier, and web crawler scraping tools let you collect data without knowing how to code or configure anything.
However, tools have a flaw: they can't assist you in a strategic sense. They're just as good as the artist who uses them, much like a hammer or a chisel. They don't provide you with the big-picture perspectives and priorities you'll need to succeed.
The best way is to use Amazon's tools in conjunction with their human intuition. That's why we provide a variety of service options that supplement your existing toolkit and resources with strategy.
Your Amazon Customer Service Rep Isn't Returning Your Calls
Amazon, like Google, is eager to assist emerging firms on its platform because it recognizes that collaborating with them is a win-win situation. Amazon takes more money as they get more profitable.
Support, on the other hand, does not endure indefinitely, and with so many brands on the platform, you may find it difficult to reach someone on the other end of the line when something goes wrong.
It may appear to be a bad offer, but that is simply how the platform's incentives work. The purpose of Amazon representatives is to increase Amazon's profits, not yours. As a result, there's no compelling incentive for consumers to stick with your brand once you're up and running. The cost of potential is far too expensive.
However, with an agency, you will always have assistance. If there's a problem with your Amazon listing account, we'll fix it right away.
You Learn About Amazon Policy Changes Too Late
While Amazon is a lucrative marketplace, it has been known to enact regulations that burn businesses. Suspension policies and review bans are always changing, and if you don't comply, you risk jeopardizing your current business model.
Because they read regular update emails and platform blogs, many platform sellers prefer to feel that they are up to date on what Amazon is doing. However, even such knowledge can be a touch behind the times.
You should be able to see which way the wind is blowing ahead of time if possible. That's what you get when you hire an Amazon agency. We're always doing the research behind the scenes to see where the platform is headed, and we'll let you know if anything happens that could affect your business model.
You lack the in-house expertise required to rank your products.
You may have excellent products, but if you don't understand how to play the Amazon SEO game, you'll struggle to gain the traction you deserve. Getting your things to rank will always be a challenge.
Again, agencies can assist. We know which keywords are most likely to help you rank and can write conversion-oriented material.
Remember that as a director, you probably don't have time to write text for every single Amazon listing. Would you know how to develop content that converts even if you did? Perhaps not.
FAQS
1 What are Amazon product listing services?
The product page for each of the things you sell on Amazon is known as an Amazon product listing. It's made up of the details you enter while listing your goods, such as the title, photos, description, and price.
Seller Services will list your products on Amazon catalog management on your behalf for a very low charge, and we guarantee the fastest and highest quality listing service.
The product page for each of the things you sell on Amazon is known as an Amazon product listing. It's made up of the details you enter while listing your goods, such as the title, photos, description, and price.
2 Is Amazon listing free?
What is the cost of selling on Amazon.com? There are two ways to sell on Amazon. The monthly fee for the Professional selling plan is $39.99, plus a per-item referral fee that varies by category. Individual selling costs $0.99 per unit sold plus a per-item referral charge that varies by category for the Individual selling plan.
3 What does an Amazon listing specialist do?
Correcting and improving current content for products that have a lot of traffic on Amazon yet have bad content. Collecting requirements from sellers and assisting with the development of tools and processes to improve the convenience and efficiency with which vendors interact with Amazon.
4 Can I list services on Amazon?
Top Pros such as assemblers, house cleaners, handymen, electricians, and others can sell professional services directly to Amazon customers in their area by selling services on Amazon and listing their services by amazon listing services. You may see every new job in your area with the Selling Services on the Amazon app and only accept the ones that meet your schedule.