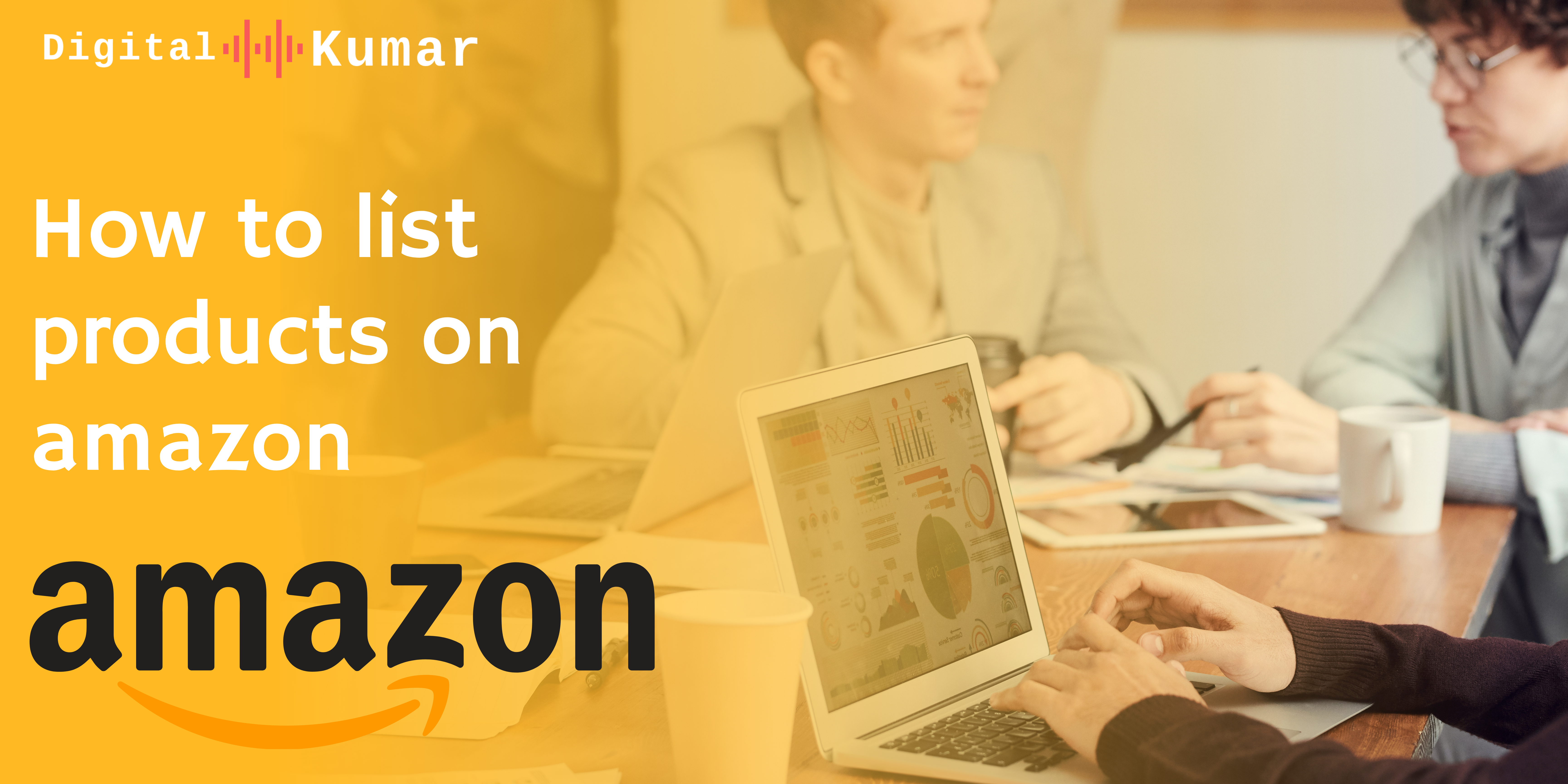 How to list products on amazon
Everyone talks about getting started with listings on Amazon … However, how do you go about listing products? What are the steps in the process? How can you tell if you're doing things correctly or if you're making a mistake that will cost you money in the long run? You don't have to be concerned because Digital kumar will walk you through the process of how to list products on amazon.
Part 1: Before You List Products on Amazon, Get Ready
Before you start listing products on Amazon, there are a few things you need to do first. They're rather simple, but failing to complete any of them will result in a significant amount of additional work later on.
 Get all of your items UPCs 
Whether it's a single item or multiple grouped, each item you list on Amazon will require its UPC number (Amazon counts a bundle as a single item). We created a primer on Amazon UPCs that explains what they are, how to discover them, and the differences that sellers should be aware of.
 Measure and weigh the products 
One of the steps in uploading a product to Amazon is to provide its measurement and weight, which may be done in two ways. If you're lucky enough to locate your goods listed on Amazon already, you can copy and paste the measurements and weight from that listing. If not, you'll have to weigh it and physically measure it (length, width, and height). Knowing the size and weight of your things can also help you plan your selling and storage tactics.
Take professional-looking photos
Take your time with product photographs because they are one of the most significant aspects of a product listing.
Make your products discoverable 
The final step before putting things on Amazon is to make sure buyers can locate them once they're online. To begin, double-check that you've selected the correct category, as you may need to obtain authorization to sell in restricted categories. Spend some time researching keywords after you're sure you've obtained the proper ones.
Part 2: Start creating Amazon product listings.
We've arrived at the exciting part! The first portion was a little lengthy and detailed, but it will come in helpful for the second part because all you have to do now is click, configure, and upload.
This section consists of only four steps; if you complete the first section correctly, this section will be a breeze.
1 Toggle to the Inventory dropdown menu in your Seller Central account, then pick "Add A Product." If you're used to working with spreadsheets, you may easily get to this point by clicking "Add Products Via Upload."
2 On the "Add a Product" screen, select one of three options.
Search for a product by name or ID using the search bar.
Click "Create a new product listing" just below the search box (if your product is brand new and not currently being sold on Amazon).
Go to the right side of your screen and select "Bulk upload" for batch uploads.
3 Confirm the principal category, then add any additional categories or subcategories to which your products belong.
4 Switch to "Advanced View" and fill in all the fields under the various tabs, i.e. Vital Info, Variations, Offer, Images, Description, Keywords, and More Details. If you're selling products that are the same except for small differences, like color or size, then the Variations tab is where you'll distinguish between those differences. This one requires going to the "Help" tab on your Dashboard and downloading the template you need (just search for "inventory file template" to get the selection of templates to choose from), making sure you have Excel to fill in all the fields and upload it to Amazon.
Conclusion
You'll require eCommerce product listing services if you want to be a successful seller. In this blog, you have learned about listing your products on amazon. To ensure that your product appears higher in the search results, optimizing your product listing entails not just updating a few elements but also increasing its general design and efficiency.
As a result, it makes sense to hire a competent Amazon listing services supplier to optimize your product listing. This will significantly increase the visibility of your product as well as the profitability of your Amazon business.
Do you wish to sell your goods on Amazon or increase the sales of your current Amazon store? Amazon product listing services can assist you with all of your Amazon listing requirements, ensuring that your product listing encourages buyers to buy from you. Our product listing experts are familiar with Amazon's product upload requirements and can assist you in creating a product listing that appeals to your target market.
Amazon Product Listing
FAQs
 How to list product on Amazon without UPC
No, is the quick response. UPCs are widely used, however, they are not necessary for every product sold.
The long answer is that it depends on the brand or category in which you wish to sell.
You may be eligible for a GTIN exemption if you sell a private-label or handmade product, which means you won't need a UPC to list the item on Amazon. (We'll get to this in a minute.)
Without the Amazon GTIN exemption, Amazon now requires all listed products to have a GS1 registered barcode. Global Standards 1 (GS1) is a non-profit organization that develops and maintains global corporate communication standards.
2 What Are Amazon product listing guidelines
The information you offer to us about your products is of at least the same quality as the best quality information presented or used in seller sales channels.
It is forbidden to use fake product identification information in product listings.
A single product may be advertised on a single detail page; advertising numerous goods on a single detail page is not permitted.
Any items labeled as "Restricted Products" by Amazon may not be featured or included in product listings.
Any of the following information is forbidden from being included in Product Listing page titles, descriptions, bullet points, or images:
Content that is pornographic, obscene, or offensive
Phone numbers, physical locations, e-mail addresses, and website URLs are all examples of contact information (except for the specific URLs requested as part of the Required Product Information)
Information about alternative ordering options (such as links to other websites for placing orders)
Testimonials, quotations, or reviews
Requests for positive customer feedback
Time-sensitive information, advertisements, promotional materials, or watermarks on photographs, photos, or videos (i.e., dates of promotional tours, seminars, lectures, etc.)
All product photographs must comply with Amazon's image guidelines.
3 How do I get an Amazon product listing template
The new templates are in Excel format and are updated on a regular basis to reflect Amazon's current listing standards. This guarantees that you can supply all of the essential and optional information for each category, as well as take advantage of emerging capabilities. The new templates can be used in one of two ways:
Templates made to order
These are editable templates that you can personalize by selecting the appropriate categories and attribute groups. In the new template, all of the specified categories are auto-populated as a drop-down selection. See the Create your inventory file template page for additional information on Custom templates.
Templates that are unique to each category
These are the most recent versions of the Category Specific Inventory Files, which include a complete list of attributes for each category.
See the Inventory file templates page to download the templates.
4 How do I get an Amazon product listing sample
5 What are the information required for amazon listing
Details about your company.
Email and phone numbers are your contact information.
Information about your company's foundation.
Information on filing a tax return (PAN and GST). If you're selling taxable goods, you'll need to give GST information at the time of registration.
6 Do Amazon Listing Services Is Free  
Look for a free item to sell. If you're anything like me, you probably have a lot of stuff accumulating dust around your house. Why not put it up for sale on Amazon?
Create an Amazon account for free. It costs you nothing to open an individual seller account on Amazon. All you have to do is provide Amazon with a few details and you're set to go.
You can list your goods for free on Amazon. The product database on Amazon.com has around 166 million items. As a result, there's a considerable probability that whatever you want to sell has already been listed. If it is, all you have to do now is add your name to the list of sellers who have already agreed to sell the item.
When the product sells, ship it. All you have to do now is make the sale on Amazon.