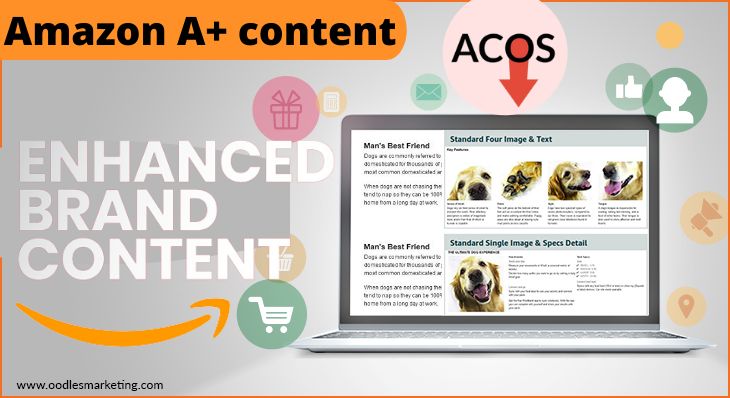 In simple words, it is a feature offered by Amazon whereby you can add images with informative content to your product listings. It also includes the use of bullet points in product descriptions to present the data more neatly. Sellers who are registered on the Amazon Brand Registry can enhance their product descriptions and modify them.
Enhanced Brand Content is the best way to decrease ACoS and increase conversion rates. This is because it plays a huge role in the optimization of your product listings.
THERE ARE TWO TYPES OF A+ CONTENT:
•         A+ Content
•         Premium A+ Content or A++ Content
DIFFERENCE BETWEEN A+ CONTENT AND A++ CONTENT
A+ CONTENT:
•         Free
•         Available to vendors and sellers registered under Amazon Brand Registry
•         5 modules product description per page
•         Images-970 pixels wide images that don't fit as wide as the whole page
•         Suitable for products that need more description, more lenient character count.
PREMIUM OR A+ CONTENT
•         Paid – Costs thousands of dollars
•         Access by invite-only
•         7 modules product description per page
•         1464 pixels wide, images and videos fit the full width of the page
•         Suitable for premium visuals that reduce character count
AMAZON (EBC) ELIGIBILITY REQUIREMENTS:
Firstly, get yourself registered and approved on the Amazon Brand Registry. A vendor or seller with registered products on Amazon Launchpad and Exclusives is eligible. They can avail of the EBC or A+ content features for ASINs that are part of approved catalogs of their brand.
STEPS TO ADD EBC ON AMAZON:
you can follow these steps to start adding A+ content:
1.        Start by logging into your Seller or Vendor Central account on sellercentral.amazon.com
2.        Now, click on the Advertising tab and open A+ Content Manager from the drop-down menu.
3.        Click on 'Start Creating A+ content'
After you have completed the following steps, you can customize and create whichever way you want. You can begin by entering the template name, language and start building your module.
A+ content modules having 15 modules that fall into different category types:
WE DISCUSS SOME OF THEM:
1.        TEXT
2.        FULL-WIDTH IMAGES
3.        SMALLER IMAGES – SINGLE
4.        SMALLER IMAGES – MULTIPLE
5.        COMPARISON CHARTS
BENEFITS OF ENHANCED BRAND CONTENT (EBC):
i.         It is the best way to attract attention to your product and build awareness and loyalty for your brand.
ii.        Visually appealing A+ content will make customers stay and read the product description.
iii.       It helps to rank products through keyword indexing in A+ content.
You should take benefit from A+ content if you have a brand registry of amazon.